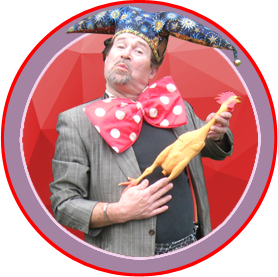 Bonzo
the Clown
Character Clown in the Renaissance Jester style, such as you might find in King Arthur's Court

Lots of audience participation, very visual, engaging, rowdy, laugh out loud Fun!!!!!

No Face Makeup – works well with young children and those who fear clowns
Peregrine Puppet Theatre
Presenting cultural Folk Tales with a modern twist.

Our hand puppets performed in a large portable puppet tent are sure to bring a smile

The shows engage and include the audience in many ways.

No two shows are ever quite the same!
Peregrine Workshops
Puppetry for the elementary classroom (k-6)

Cultural Folktales with Puppetry

Performance Art / Creative Dramatics

Clowning – discover your inner clown!

Schedule a puppet theatre or clown workshop at your school or camp!
Andy Koch is a professional Puppeteer, Clown, Musician and Teaching Artist.

The Peregrine Puppet Theatre featuring Bonzo the Clown is based in Bellingham Washington and has toured extensively throughout the Northwest and beyond.

Andy's passion for the performing arts is evident in his energetic presentation of a variety of performance arts.

Andy is highly committed to sharing his experience and knowledge with others, especially young people interested in pursuing a career on the stage.